Alongside Bitcoin, even Ethereum has been breaking barriers and claiming new highs. Over the past week, the largest altcoin has rallied by around 15%. In fact, on both Saturday and Sunday, i.e. March 18 and 19, ETH created highs around $1841.
Furthermore, on the daily timeframe chart, Ethereum has managed to flip its downtrend resistance into a support level. In fact, after breaking above the downtrend, ETH swiftly sprung up and registered a ~30% incline.
Also Read: Ethereum's Vitalik Buterin Recommends These Wallets for "Self Custody"
"Ethereum to $2k" Narrative Gets Stronger
Given the latest rise, the percentage of addresses in profit has increased in tandem. According to data from Glassnode, the same attained a 10-month high of 65.349% on Monday, March 20.
A rise in returns usually triggers "tourists" or "paper hands" to book profits and exit. Even though we might see a mini-sell-off in the days to come, it should be noted that the Ethereum market likely has some time still left, before it notes a macro sell-spree.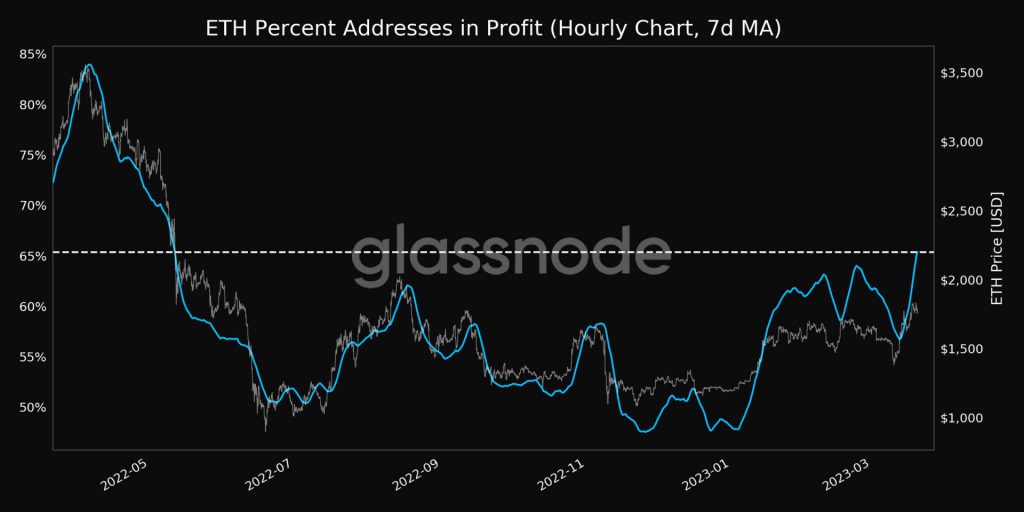 Also Read: Has Bitcoin Finally Entered Into its Bull Phase?
This is because the majority of addresses have accumulated Ethereum in the $2.1k-$2.9k bracket. According to on-chain data from ITB, around 8.29 addresses have bought a total of 25.58 million ETH tokens in the range. This means, only when Ethereum reaches the base price of the cluster, the actual mass-dumping would materialize. In retrospect, this also indicates that ETH's price has upside room to glide up to $2.1k in the weeks to come.

A recent analysis by Santiment also affirmed the same. By peeking the Ethereum's activity, usage, and demand, the on-chain analytics platform asserted that the network "hasn't appeared to heat up and create notable barriers due to high demand." It added,
"This is a good sign that ETH has a door open to $2k and beyond. "

Credit: Source link