Blockchain is never short of trends or opportunities. In such an unpredictable industry, only a few teams could stick to their original beliefs, and ViaBTC is one of them. During the past six years since its founder Haipo Yang independently completed the coding of ViaBTC Pool, ViaBTC has, with its cutting-edge technologies and first-rate products, evolved from a mining pool into an all-encompassing blockchain ecosystem that offers professional blockchain products and services to more than 4 million users across over 200 countries and regions around the world.
ViaBTC Pool: Providing Efficient, Stable Mining Services
Before founding ViaBTC, Haipo Yang also contributed to the building of the Bitcoin community. Mining is essential to the maintenance of the BTC network. In the early days of the blockchain industry, the technologies and products were far from mature, and the mining pool technology was grossly underestimated. Haipo Yang's idea was simple — to build an efficient and stable mining pool to drive Bitcoin and blockchain networks toward a better future.
This simple idea led to a series of changes in the mining pool industry. Before ViaBTC Pool was launched, most mining pools either used PPS or PPLNS to pay miners. The former payment method does not provide miners with miner fee rewards, while the latter comes with unstable returns. To better ensure miners' revenue, Haipo Yang created a new payment method named PPS+, under which miners receive steady returns, as well as the miner fee. Moreover, the introduction of PPS+ also led the mining pool industry to a new stage in terms of payment methods.
Apart from that, ViaBTC Pool also insists on providing real-time, detailed, open, and transparent statistics to help miners count each revenue. On ViaBTC, miners can withdraw and spend their cryptos right away. Additionally, stable technical support and satisfying products have earned it extensive user recognition. ViaBTC now provides mining services for over 1 million users across more than 130 countries and regions, with billions of dollars' worth of cumulative mining output value.
CoinEx: Making Crypto Trading Easier
 When founding ViaBTC, Haipo Yang envisioned that it would become the infrastructure of the blockchain world, as ubiquitous and indispensable as water and electricity in the real world. In the blockchain world, the value creation and circulation of crypto assets constitutes a major link. Therefore, in 2017, Haipo Yang started to develop a trading system and independently created the world's first 10,000 TPS trade matching engine. In December 2017, CoinEx Exchange was established.
Haipo Yang had unique insights into crypto exchanges as well. The market abounds with all kinds of exchanges, most of which have a high threshold and are not beginner-friendly. As such, the founder hoped that CoinEx could bring more new users around the world to the blockchain industry as a crypto gateway. Therefore, CoinEx insists on turning complex products into simple ones to help more beginners easily complete their first crypto trade.
Today, slowly but surely, CoinEx is going to achieve this goal. Right now, the exchange provides safe, reliable crypto trading services for over 3 million users in more than 200 countries and regions around the world.
ViaWallet: Via Wallet, To the Future Finance
Both ViaBTC Pool and CoinEx Exchange always put the security of users' assets first. As must-have blockchain tools, crypto wallets directly determine the security of users' assets. Yet there is a mix of good and bad crypto wallets in the market, and some centralized wallets would even disguise themselves as decentralized ones to trick users.
To meet the demand for secure crypto wallets, in 2019, the ViaBTC team introduced ViaWallet, a crypto wallet that aims to connect users to the future financial world and provide secure asset management services. Moreover, it strives to list a wide range of cryptos and help users explore DApps and NFTs. ViaWallet now supports over 46 coins, over one million tokens, as well as the transfer/receipt of NFTs. With ViaWallet, users can easily experience multiple public chain applications, such as ETH, Polygon, and TRON.
CSC: Building a High-performing Decentralized Financial Ecosystem
Public chains, which serve as the bottom-layer infrastructure in the blockchain world, are widely criticized for their slow transaction speed and "expensive" transaction fees that hinder the popularization of blockchain. To help more users experience decentralized financial ecosystems, the CoinEx team decided to create a public chain featuring efficiency and low fees. In June 2021, the mainnet of CoinEx Smart Chain (CSC) was officially launched. CSC uses PoS, which is a consensus mechanism that's more friendly to developers and users. Moreover, the public chain combines PoS with the PoA block generation mechanism to achieve efficient block generation, reduce transaction costs, and provide users with a stable, secure, and high-performing public chain ecosystem.
According to CSC's on-chain data, the average block time on CSC stands at about 3 seconds, and the average transaction fee is approximately $0.003. Plus, the public chain already features a series of DeFi projects, NFT projects, gaming projects, basic tools, as well as an official cross-chain bridge. CSC brings users and developers to a decentralized financial ecosystem that promises efficiency and low fees and allows them to experience the charm of the blockchain world and Web 3.
ViaBTC Capital: Empowering Blockchain Growth
Relying on the four core business segments of ViaBTC Pool, CoinEx Exchange, ViaWallet, and CSC, the ViaBTC team has built an all-inclusive blockchain ecosystem that spans the issuance, circulation, application, and value discovery of cryptocurrency, as well as the underlying technology of blockchain. This ecosystem meets most users' demands for the blockchain space, and "Via Blockchain, Making the World a Better Place", the vision that Haipo Yang had in mind when founding ViaBTC, is gradually becoming a reality.
Meanwhile, ViaBTC also hopes to contribute to the advancement of the entire industry and bring more users and developers to the blockchain space. As such, tapping into its blockchain resources and tech advantages, ViaBTC established ViaBTC Capital in August 2021. Focusing on Web 3.0 and Layer 2 projects, as well as DApps that feature DeFi, NFT, or DAO elements, this investment arm aims to help outstanding and innovative blockchain teams grow alongside ViaBTC.
ViaBTC Capital is responsible for both projects and users. In addition to funding, it provides project teams with a wide range of post-investment services, including tech instructions and international market promotions, to facilitate the progress of technologies, applications, and the entire blockchain ecosystem.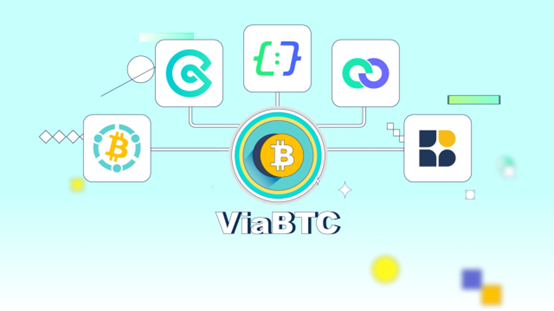 ViaBTC Pool, CoinEx Exchange, ViaWallet, CSC, and ViaBTC Capital — the introduction of each new business segment has posed a challenge to the team, and any security breach or bad user experience would be fatal to all the products it built. Fortunately, ViaBTC has made it with a commitment to the user experience, which is exactly Haipo Yang's original philosophy for product development and the top priority he repeatedly emphasizes in the communication with members of the team. Thanks to such an approach, ViaBTC has managed to create first-rate products, making it grow and evolve over the past six years in the ever-changing blockchain world.
Credit: Source link