Solana's landscape continues to evolve. DEXs and NFT markets initially had the baton. However now, it seems like "emerging consumer applications" are on center stage. Affirming the same, a recent Messari research highlighted,
"The rise of gateway interactions from gaming applications and the introduction of new consumer platforms indicate a changing user preference."
As shown below, consumer apps have been able to gain over 1/10th of the user share over the past six months. Currently, they command a 28% share in the ecosystem. Other sectors have also noted improvements. However, their intensity hasn't been as high as consumer platforms.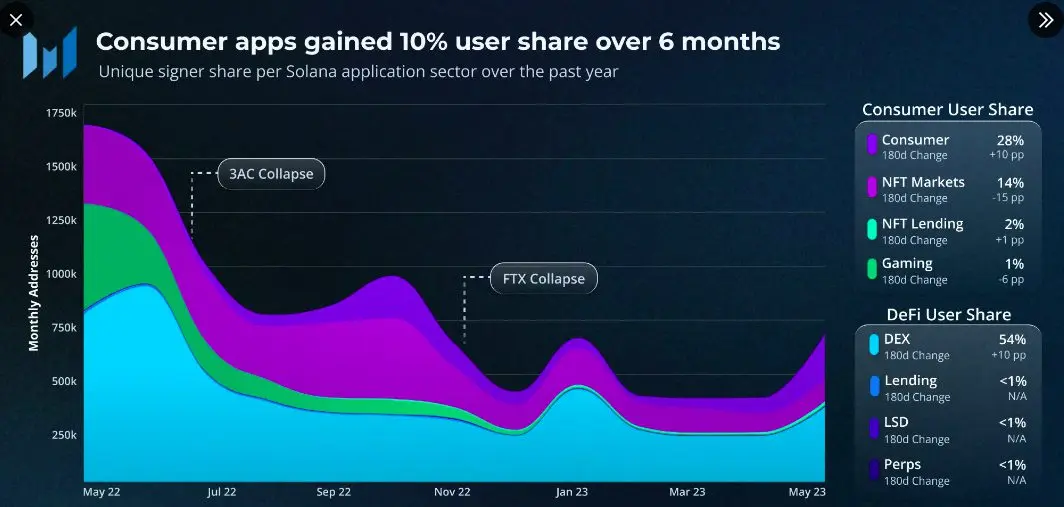 Well, Solana has been able to successfully attract new users. However, there remains a challenge. The network has not been able to retain users over the long term. As chalked out below, Solana's retention curve has been sloping downwards. In fact, when compared to its peers, its rate is the lowest. On the other hand, networks like Ethereum, Avalanche, Polygon, and BNB Chain have been able to perform better. On Arbitrum and Optimism, retention numbers have been the highest. However, even that's started going downhill now. Chalking out how Solana could solve this problem, Messari's report noted,
"To sustain growth, Solana needs more compelling and distinctive applications that provide a captivating user experience."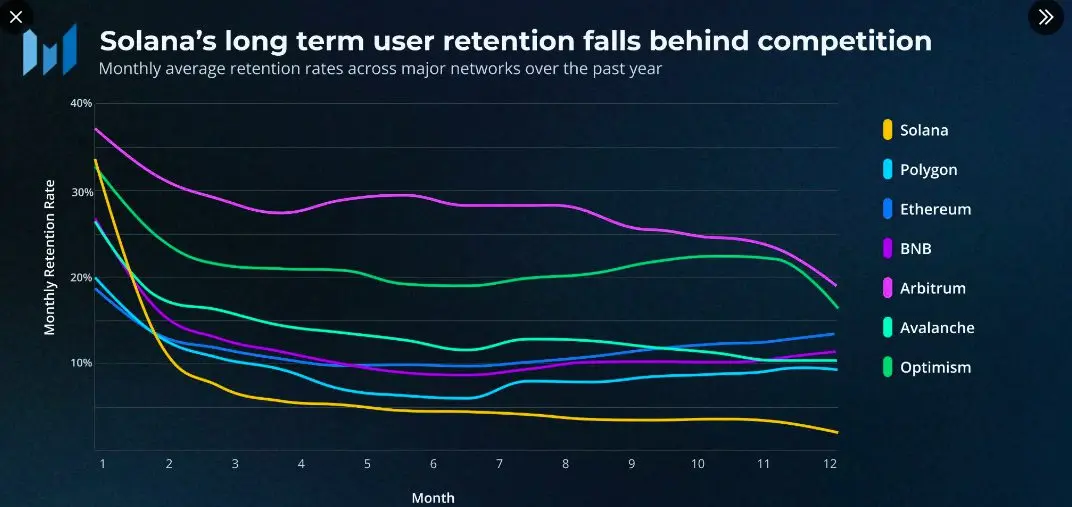 Also Read: Solana Integrates ChatGPT: Will SOL Reach $30 Next?
The TVL issue
Apart from not being able to retain users, Solana has also not been able to retain funds locked in its ecosystem. Messari's report highlighted that its TVL has depreciated since the beginning of 2022, and currently stands at only $1 billion, the lowest amongst other prominent protocols. Ethereum's TVL has been hovering around $68 billion, while others like BNB Chain, Arbitrum, Avalanche, Polygon, and Optimism flashed readings in the $1.3-$5.3 billion bracket. Chalking out why Solana's performance on this front has been underwhelming, Messari noted,
"Solana's focus on consumer applications has led to a shift in user activity away from DeFi and toward consumer protocols."
Well, evolution and maturation are a part of every project's lifecycle. Despite the decline in on-chain liquidity, Solana's developer ecosystem "has shown resilience." They have been "actively building" new functionalities, especially in the consumer sector, including programmable NFTs and compressed NFTs, helping to balance things off. Moreover, lending platforms, like Sharky, have experienced a surge in transaction activity on Solana. In fact, they've been able to bring in new users and even have "impressive retention rates," making the picture less bleak.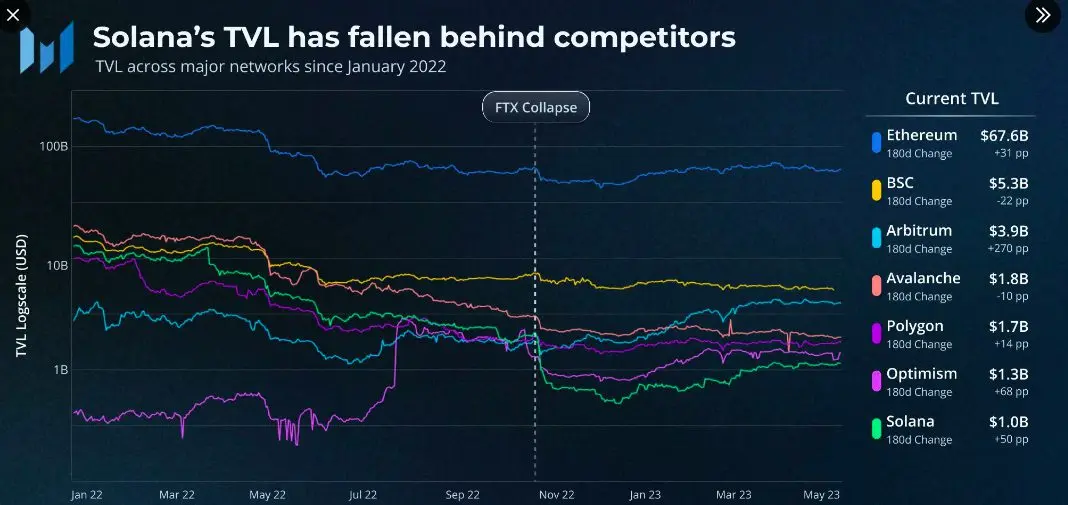 Also Read: Are Cardano NFTs Faring Better than Ethereum, Solana, Polygon?
On the price front, Solana has noted a 2.64% incline over the past day. However, it continues to trade within the horizontal consolidation band and it has been stuck in this range since Q1. At press time, SOL was priced at $21.03.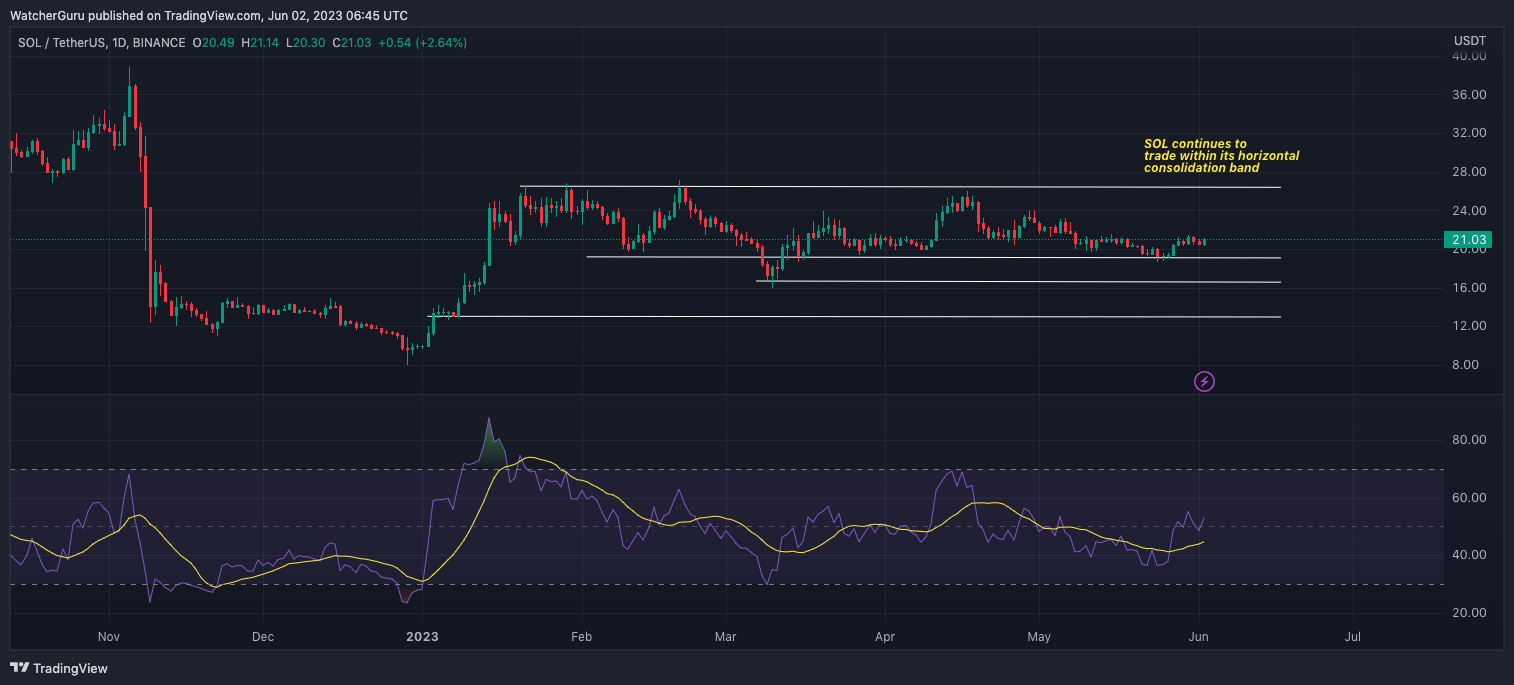 Credit: Source link