Owing to the Shibarium Beta Chain ID drama, fear, uncertainty, and doubt have been doing the rounds. Community members have been expressing concerns on social media, while the price of the ecosystem's tokens has been drastically falling.
As soon as the alleged "plagiarism" news started floating around, Shiba Inu plunged by around 10% while Bone dropped by 20%. At press time, however, the situation was seen cooling down. SHIB's loss shrunk to 6%, while BONE was down by only 13.4% on the daily timeframe.
However, on a weekly, BONE's scars were slightly deeper. The asset has depreciated by 23.3%. In fact, its social dominance has also dropped by 67.8% to 0.66%. Parallelly, in the same timeframe, the bullish sentiment associated with Bone ShibaSwap has declined by 68.1%.
Also Read: Shiba Inu [SHIB] Mid-March 2023 Price Prediction
State of BONE investors
Earlier today, BONE dropped below its EMAs to create a new local low of around $1.08. However, it managed to erase its losses, re-claim its 200 EMA [blue] and glide back above $1.3. At press time, the asset's price was oscillating in the $1.27-$1.3 range.
For now, BONE has a couple of strong resistances around $1.5 and $1.9, making its path to the upside a bit tricky. As shown below, the asset has been trading above the former level in early March and tried breaking above the latter subsequently. However, it was not successful in doing so. Hence, for BONE to start re-attempting the same, bulls would need to step into the picture.
At press time, the RSI was hovering around 35, bringing to light the under-nourished buying momentum. Thus, if the situation worsens from here, BONE could drop down to either of its supports highlighted in the chart below.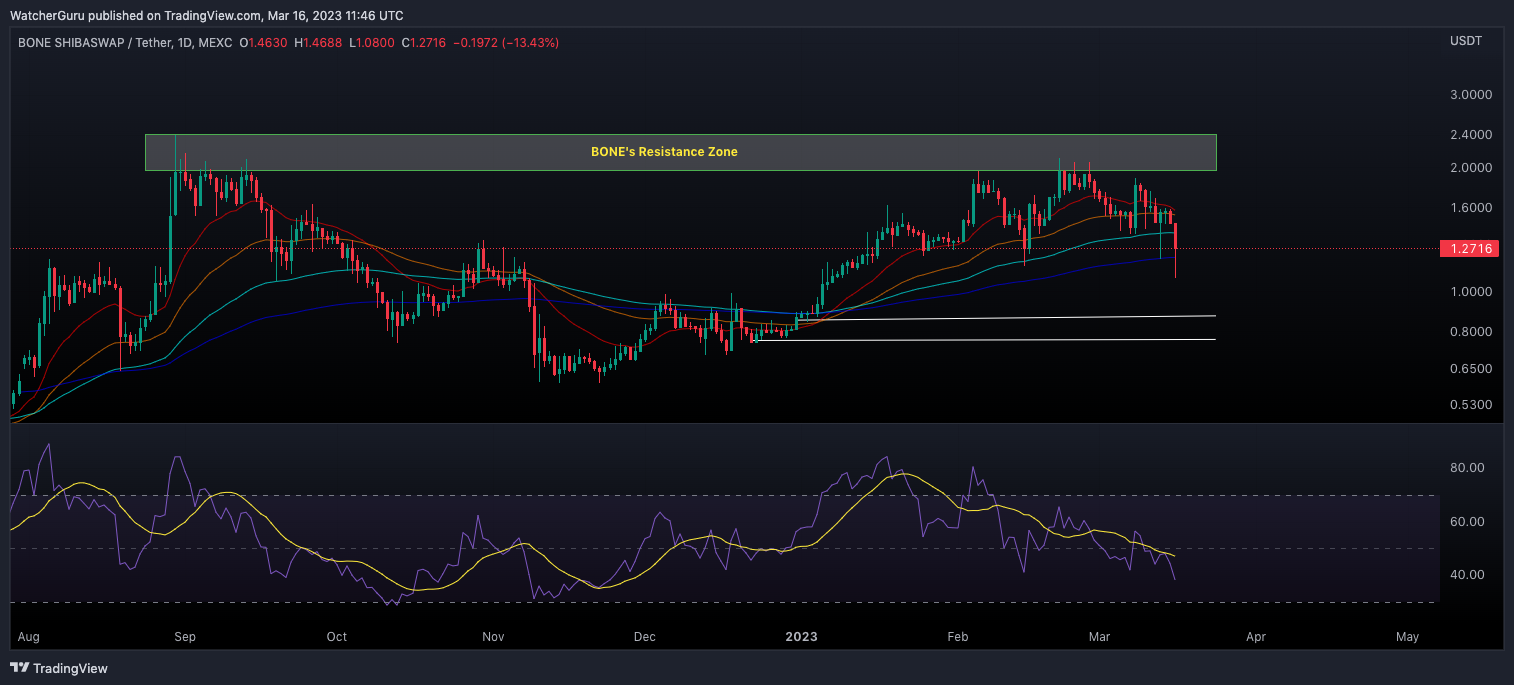 Despite the latest dip, it is interesting to note that YTD's average profitability numbers have not been drastically impacted. According to data from IntoTheBlock, nearly 82% of the BONE addresses are currently "in the money" or in profits.
This likely indicates that a major chunk of investors are early buyers and haven't been affected much by BONE's decline. Among the remaining holders, around 10% of them are "out of the money' or in loss, while the rest 8% of them are "at the money" or in a break-even position.
Also Read: Shiba Inu's BONE Enters Top 100 for the First Time in History
Credit: Source link