The world's 17th largest cryptocurrency Shiba Inu has been on a downwards spiral recently. The internet's most-loved digital asset was trading down by as much as 23% in the last seven days – its worst losing streak in over a month. However, technical developments suggest that a relief rally was due after recent losses and data showed that some market players were getting into early positions.
Whales come to play
The first bit of positive data came from the Ethereum whales, who have known to show an affinity toward the dog-themed token. Just a day after active addresses spiked by 44%, SHIB continued to shift hands amongst the top Ethereum wallets, becoming the most traded token over the last 24 hours. At press time, the volume traded by the top Ethereum wallets touched $4.3 Billion, up by a massive 30% on the day.
Shib Army remains evergreen
High activity amongst whales was also supplemented by the Shib Army, which was quite active since last week even as bears wreaked havoc in the market. Data from LunarCrush showed that SHIB's weekly social metrics, such as social dominance and social engagements, were recording double-digit growth – far greater than the top 10 alts by market cap.
Buy orders winning out
While whales and social media activity were more reflective of volatility, the same did seem to translate to the favorable sentiment among retail traders who were placing buy/sell orders on exchanges.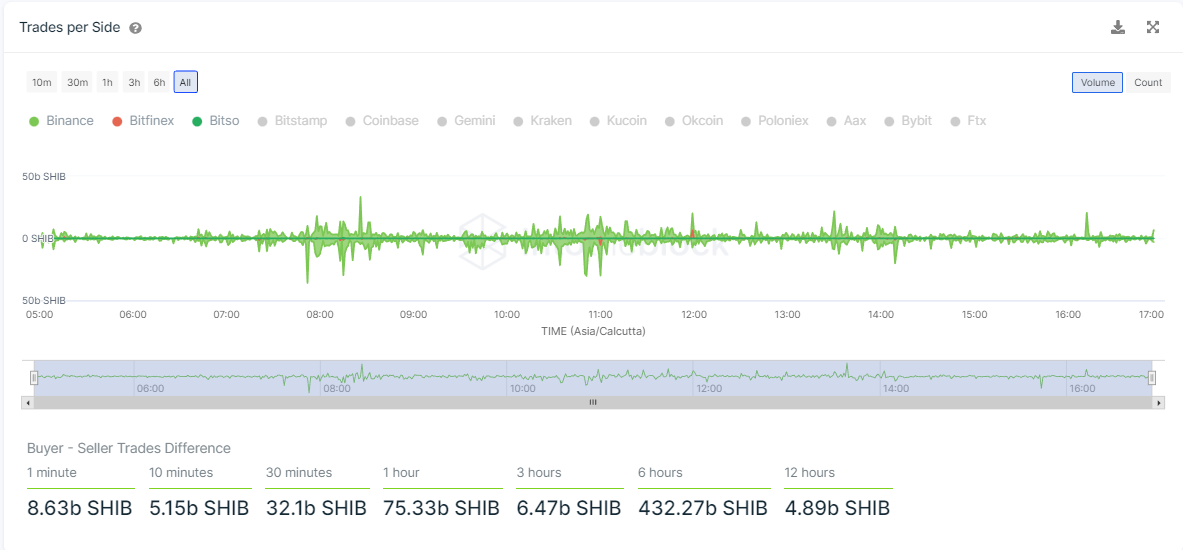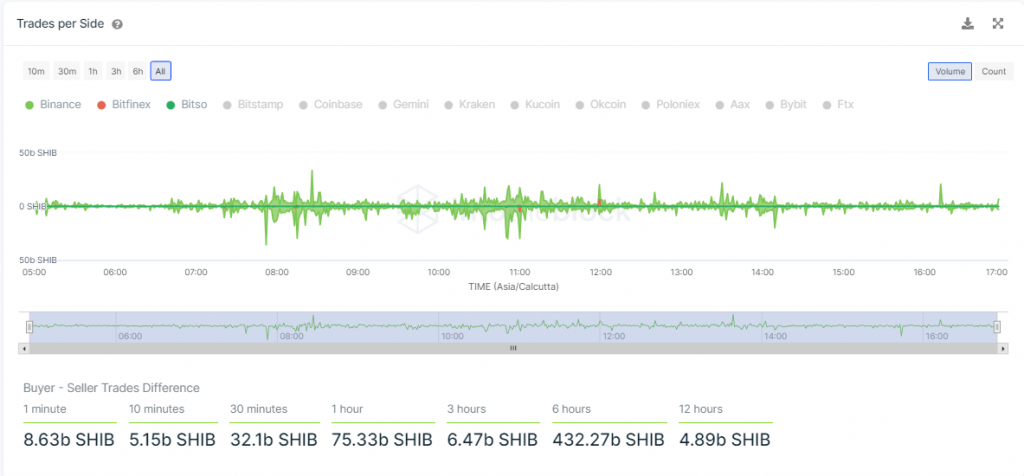 Retail traders appeared to be capitalizing on discounted price levels. As per IntoTheBlock, buy orders dominated, with little to no resistance from sell-side trades.
Shiba Inu Daily Chart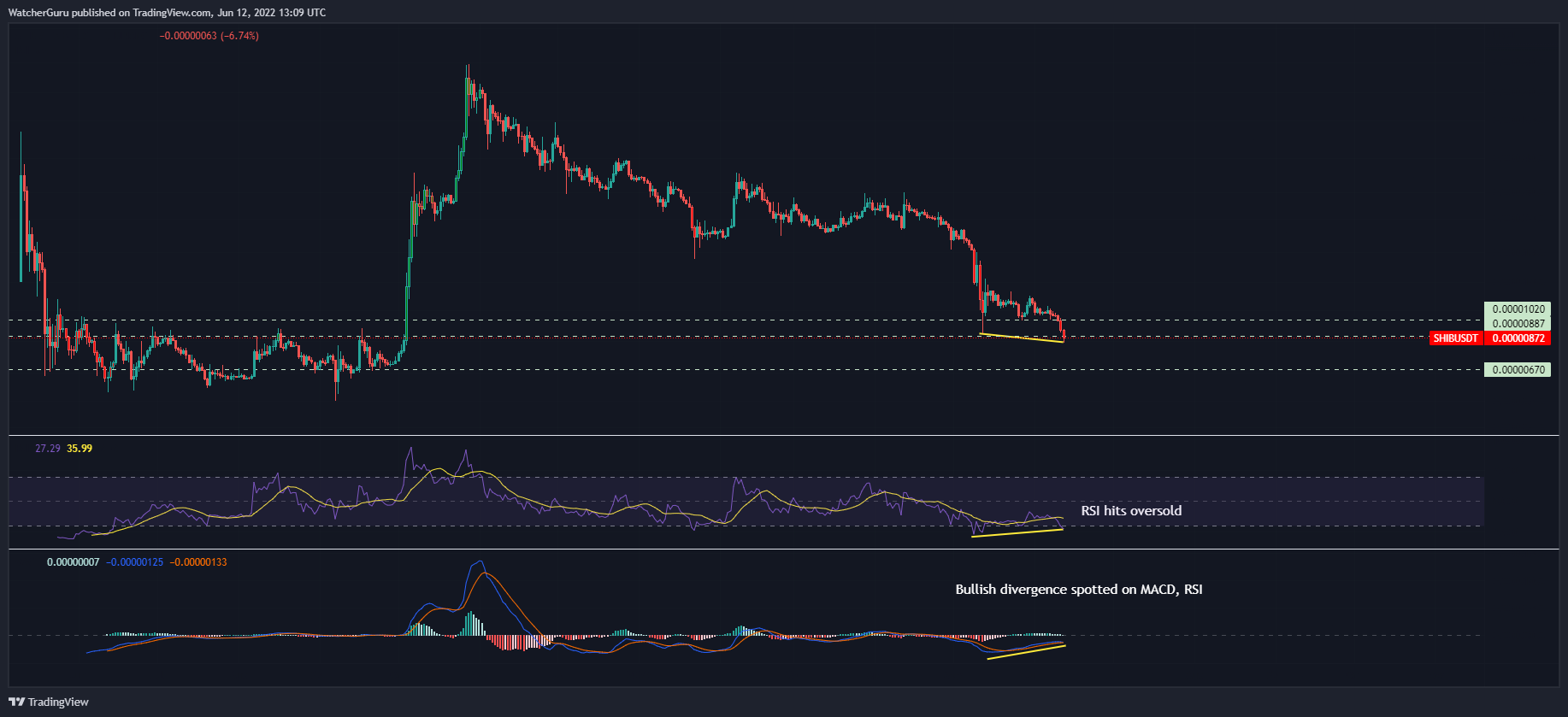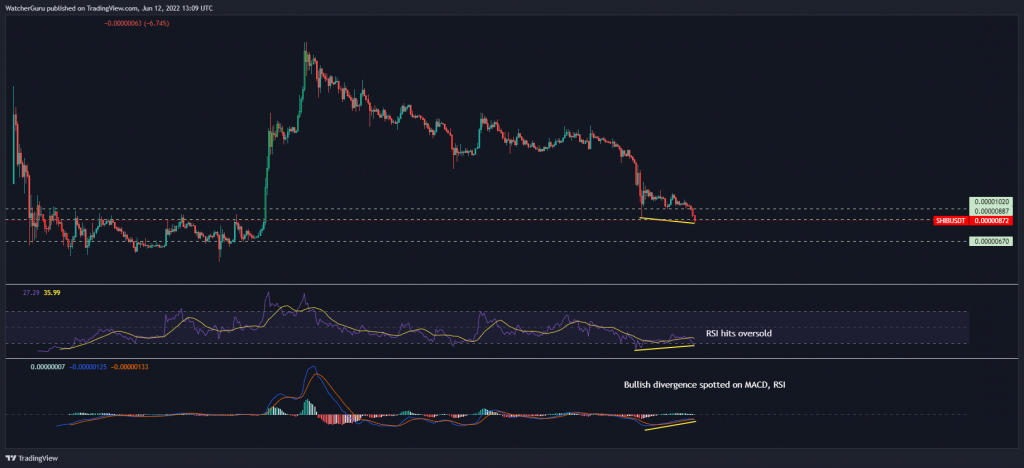 Meanwhile, technical developments on the chart shed some light on why the sentiment was beginning to turn towards the bulls. SHIB's daily RSI, which is an important gauge of market direction, was trading at oversold levels. Typically, such readings can trigger a price rebound as the asset is perceived to be trading below its 'intrinsic value'.
A bullish divergence was also visible along with the MACD, which formed two higher lows as opposed to the price. Divergences indicate that the current downtrend was weakening and could even lead to price changing direction.
Breaking down SHIB's movement on the chart, $0.00000875-support seemed like a logical area to expect a bullish reversal. The zone was one of the stronger defenses available on the daily timeframe followed by $0.00000670.
Conclusion
With retail traders and whales coming to play as Shiba Inu traded at an important price level, there were more than a few reasons to expect a bullish reversal. If the above-mentioned factors play out, SHIB could shoot upwards by 14% to $0.00001020- its closest available resistance on the daily chart.
However, keep in mind that the general undertone of the market was very much bearish and anything beyond a relief rally would have to be well supported by a bullish Bitcoin.

Credit: Source link