Ethereum's price has seen more fluctuations over the past few days when compared to Bitcoin or the broader market. In fact, at press time, the disparity was evident. While Bitcoin shed 0.24% value in the past 24-hours and the market's total capitalization depleted by 0.84%, Ethereum daily losses stood at 3.23%.
Macro Ether selling in play?
Of late, exchanges have been noting substantial inflows of Ethereum tokens, indicating that market participants have been dumping their HODLings. Per Santiment,
"$2.21B worth of Ethereum has moved back to exchanges over the past week after a long-term exodus of coins moving off of exchanges, dating back to August of 2020."
Further, as illustrated below, the ratio of supply of Ethereum on exchanges has broken the long-term downtrend and risen back to mid-March levels. Notably, this is the most sustained upswing in ETH being moved back to exchanges since last year's May, which ain't a good sign.
Alongside, it should be noted that the number of active Ethereum addresses has also been shrinking since May. On 13 May, this metric created a local peak at 528.7k. However, at press time, it stood at merely 323.6k.
An address, as such, is considered to be active when it becomes a direct participant in a successful transaction. The higher the number, the more number of transactions taking place and vice versa. So, the current depletion points to the dip in the number of Ethereum-centric transactions.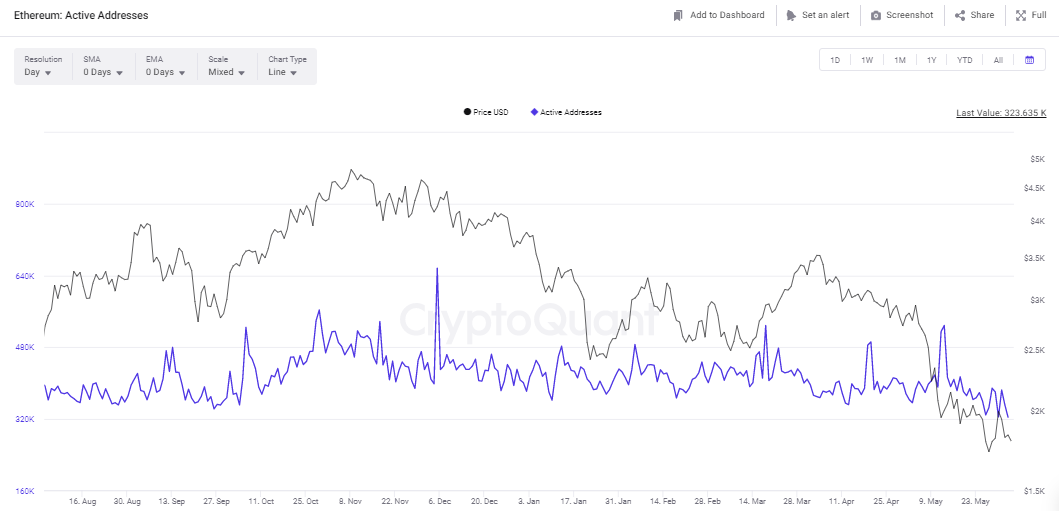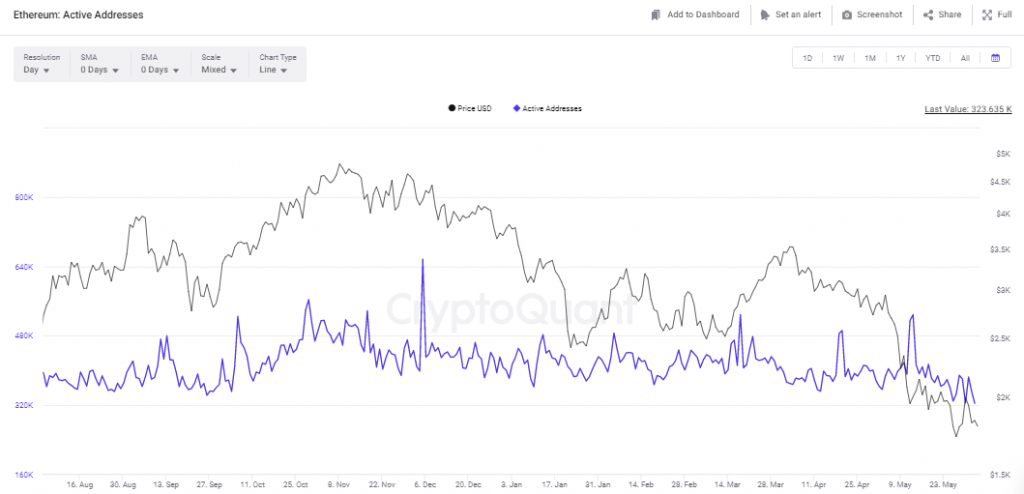 Per the state of the said metrics, it looks like more pain lies ahead for Ethereum. So, if the selling continues and the address activity doesn't improve, the asset's price can be expected to stoop down to the $1650-$1700 band to collect liquidity before changing its direction. With a market cap of $214 billion, the alt leader was trading at $1762 at press time.

Credit: Source link