After registering 4 back to back red candles on the daily, Dogecoin finally managed to flash a green candle on Tuesday. In fact, during the early hours of the day, it managed to swiftly climb up on its charts by almost 18%.
With the state of the broader market remaining to be unstable, Dogecoin couldn't keep up with its uptrend. It briefly consolidated between $0.058 and $0.056 for a while, before starting to go downhill.
Over the past hour, nonetheless, Dogecoin seemed to be back on track and had registered 2 back to back green candles on the 30-minute chart. In fact, its RSI reading had also managed to reach par with its average level and was on seen inching towards the overbought region, a sign of buyers taking things into their hands.
Dogecoin to continue pumping?
Supporting the said narrative was the buyer-seller trade difference from ITB. On all the frames—right from the minute windows to the hourly windows—the buy trades had managed to comfortably surpass the sell trades by millions of tokens. The same can be evidenced from the snapshot attached below.

Alongside the said buy transactions, a parallel rise in the daily active addresses was also noted. Per ITB's data, over the past week, this metric has noted a 21.34% incline. In fact, towards the end of last week, the DAA curve remained flat but started rising only over the last couple of days, bringing to light the renewed interest of market participants in Dogecoin.

So, keeping the current state of indicators and the buying bias present in the market, Dogecoin should be able to briefly extend its relief rally. However, it shouldn't be forgotten that the meme coins' correlation to Bitcoin has notched up from a 30-day low of 0.29 registered on 11 June to 0.88. This essentially means that if Bitcoin ends up dipping in value, it would drag Dogecoin along. The same could end up pre-maturely bringing a halt to DOGE's relief rally.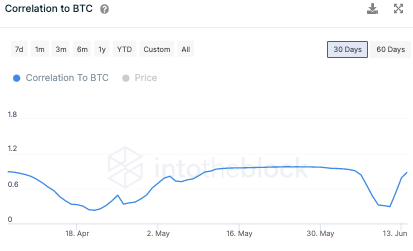 Credit: Source link