If Do Kwon thought his bad time was over with Terra's fall, he was probably wrong. Evidence has emerged that Do Kwon manipulated Terra's proposal voting.
Recent allegations have accused Do Kwon of cashing out $80 million per month to secret wallets. In the most recent of these squabbles, Do Kwon, the Chief Executive Officer of Terraform Labs, is accused of withdrawing $2.7 billion from the Terra Network before the catastrophe.
In one of the recent tweets, pseudonymous Twitter user Fatman surfaced a few pieces of evidence showing that Do Kwon allegedly manipulated Terra proposal votes.
Do Kwon used a 20 million LUNA wallet for proposal voting
According to the allegations, Do Kwon broke TFL's regulations by utilizing a secret wallet to vote on Terra Station.
"Caught. The 'mystery' wallet with a 20M LUNA airdrop that was voting on Do's own proposal, delegating to North Star, insider trading ASTRO, etc. – it is officially confirmed that it belongs to Do Kwon himself."

FatMan wrote on Twitter
FatMan then proceeded to post a snapshot of a Twitter chat he had with Terra's CEO last month, in which he attempted to query about the true identity of the wallet's owner. But Do Kwon resisted responding to FatMan by saying, "I decline to respond."
FatMan also highlighted that Do Kwon used the same wallet in August 2021 to submit a voting proposal. In order to make sure that the evidence is robust, he shared a proposal in Agora where the wallet was utilized to vote several times. He stated that it is an alternative wallet owned by Do Kwon.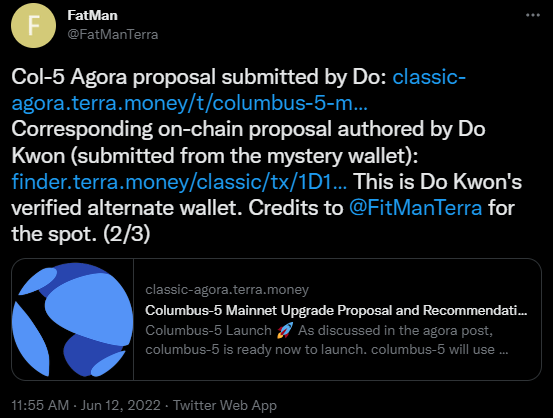 Furtherman concluded his thread by saying:
"They told you TFL doesn't vote. They told you TFL didn't get the drop. But you'll notice that every tiny thing they do is to extract more money out of the 'community' through wordplay and manipulation. He doesn't care about you. You are an instrument to him and always were."
The accusation adds to the long list of allegations standing against Kwon. Looks like he will be staying busy for a few more days with the allegations piling up.

Credit: Source link