The world's largest cryptocurrency exchange Binance was in the crossfire of critics for a long time after the FTX collapse. In particular, there was harsh criticism because of an opaque proof of reserves issued by the auditing firm Mazars, which paused the cooperation with the exchange shortly thereafter.
Over the turn of the year, however, the criticism has become quieter and Binance has disappeared from the spotlight as DCG and Genesis became the crypto industry's biggest headache. But Conor Grogan, Head of Product Business Operations at Coinbase, presented new serious allegations against Binance today.
In a Twitter thread, Grogan wrote that there is a "pattern of Binance front-running over 18+ months." He found Binance-connected wallets which were buying $900.000 RARI seconds before the listing and dumped them minutes after.
He also found an incident where around 78,000 ERNs were bought between June 17th and 21st and sold immediately after the listing was announced. The same thing was done with TORN, where "hundreds of thousands were bought and sold right after the announcement."
Another example is the purchase of RAMP, worth more than $500,000, of over multiple days, "before sending it to Binance minutes after the listing announcement. Assuming they sold it was a ~100K payday." Grogan explained:
I found all of these via looking at the original wallet's OKX deposit address and looking at the other counterparty wallets. Not great opsec by them. I just started digging in so there might be more examples.
According to the Coinbase exec, the front-running could have a variety of causes. Most likely, according to Grogan, is insider MNPI (Material Nonpublic Information) which is operated by a rogue employee who is connected to the listing team and has details of new asset announcements.
Another explanation could be a trader finding a leak in an API or test trade exchange. In any case, regulators and law enforcement agencies are likely to be very interested in the case, as evidenced by the recent cases against Coinbase for insider trading.
Bitcoin Price Manipulated By A Singe Entity At Binance?
Notably, rumors surfaced last week that the entire Bitcoin move from $17,000 to $21,000 was initiated by an entity at Binance. First, an anonymous trader pointed to the move being fueled by a BUSD stablecoin whale, citing the BTC Spot CVDs (Cumulative Volume Delta). On January 15, he shared the following chart and wrote:
Whole move from 17k to 21k was made by someone on Binance aggressively buying Bitcoin with BUSD. Other exchanges started to buy around 19.5k with USDT + USD. Green CVD includes all exchanges with Binance USDT as well, yellow CVD – only BUSD.
Yesterday, the trader wrote that both CVDs are showing a Bitcoin bearish divergences since yesterday. "Green line – spot CVD with all stablecoins including our loved one BUSD, blue line – perps CVD with all stablecoins as well. Looks like passive seller won this time," the trader said.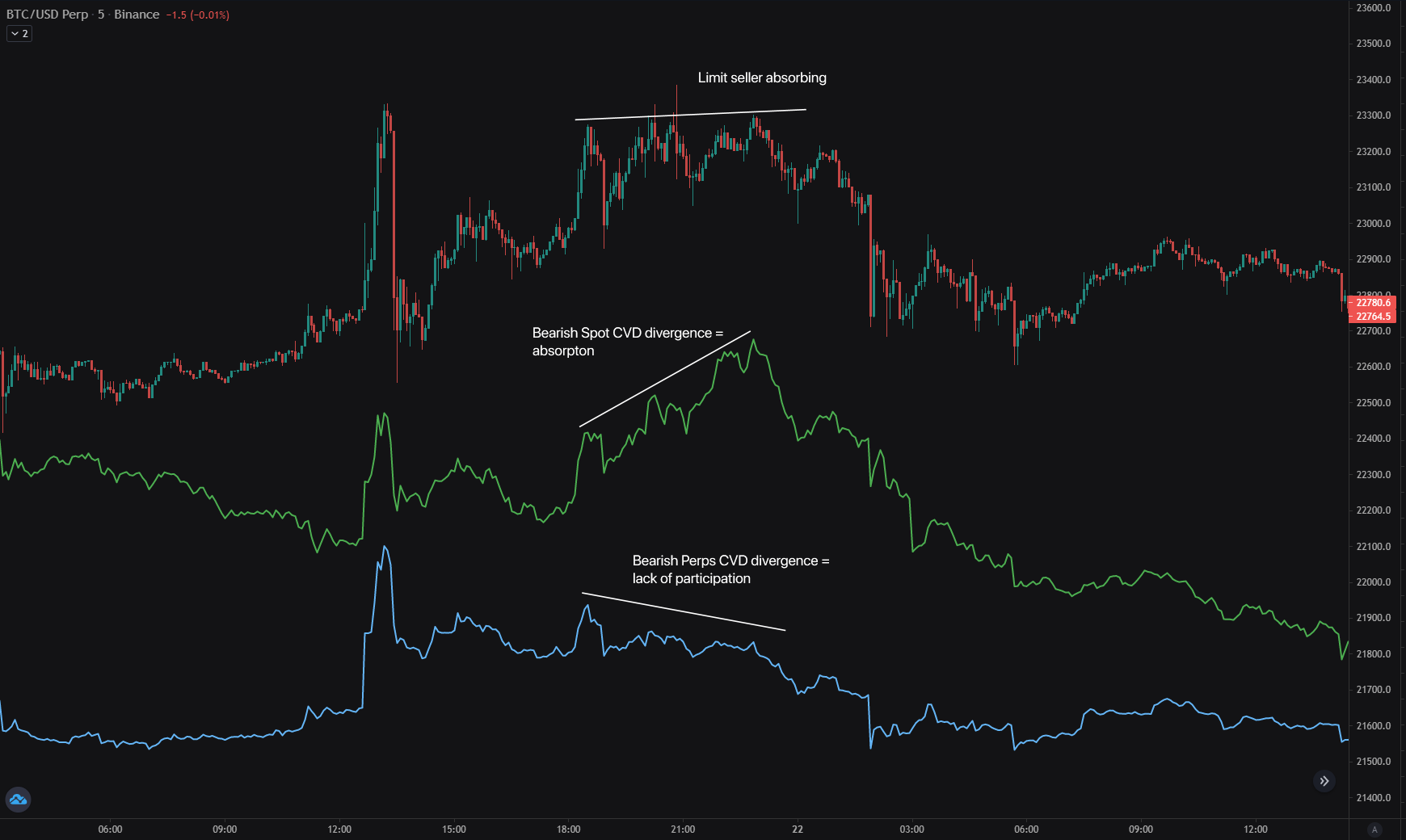 However, the trader also clarified that while he was the first to report the huge BTC buying with BUSD on Binance, he never mentioned the words "cartel" or "manipulation."
At press time, the Bitcoin price was once again attacking the $23,000 level.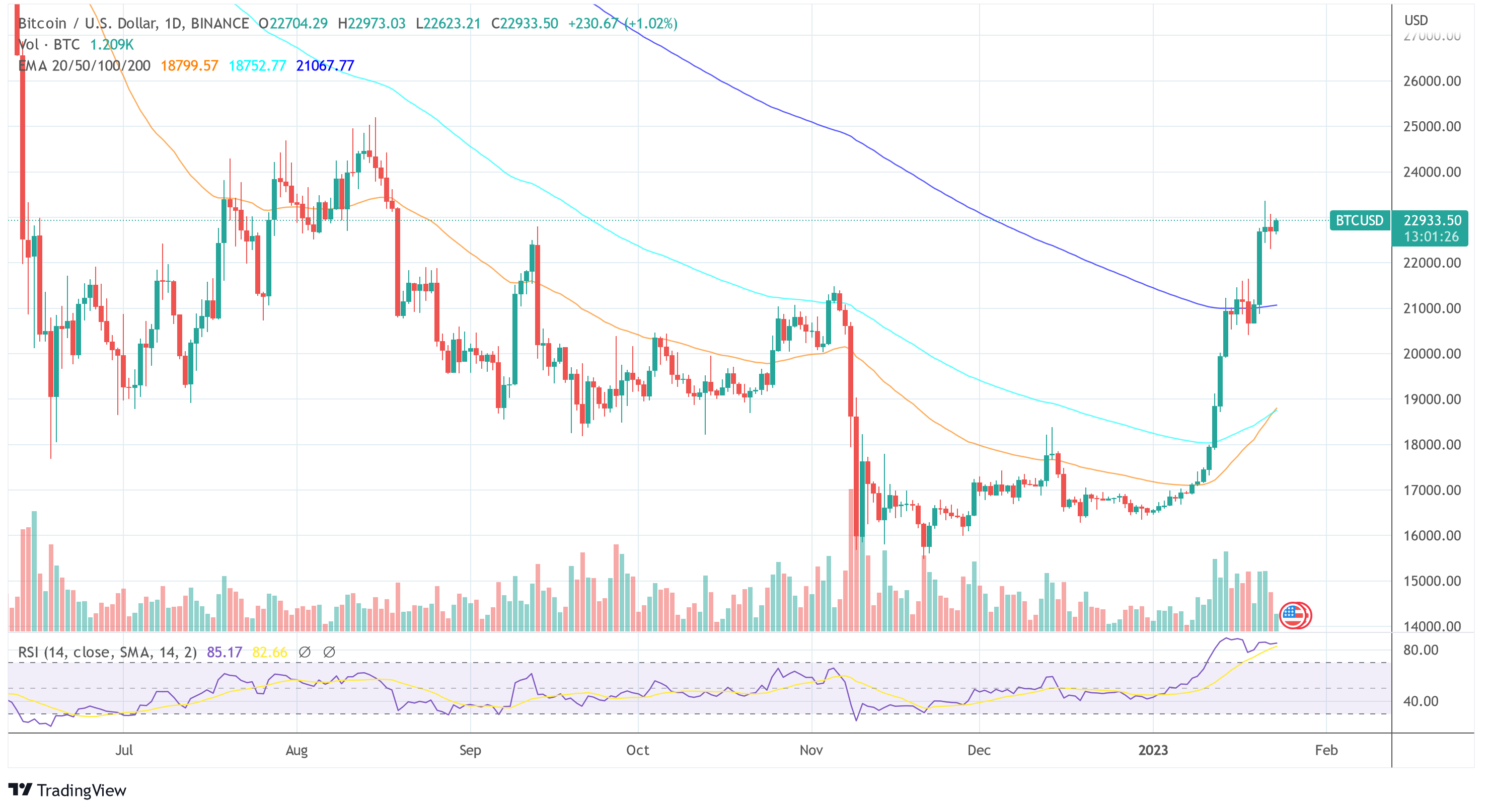 Featured image from iStock, Charts from Twitter and TradingView.com

Credit: Source link