Cardano (ADA) has been scaling the heights because it is now the sixth-largest cryptocurrency after dethroning Ripple (XRP) with a market capitalization of $20.71 billion, according to CoinMarketCap. 
Cardano is going through the roof based on factors like increased development activity. Market insight provider Santiment explained:
"Cardano is one of many altcoins that have enjoyed a great start to the week. Development activity has hit AllTimeHigh levels, as ADA's team worked on innovating while prices were suppressed."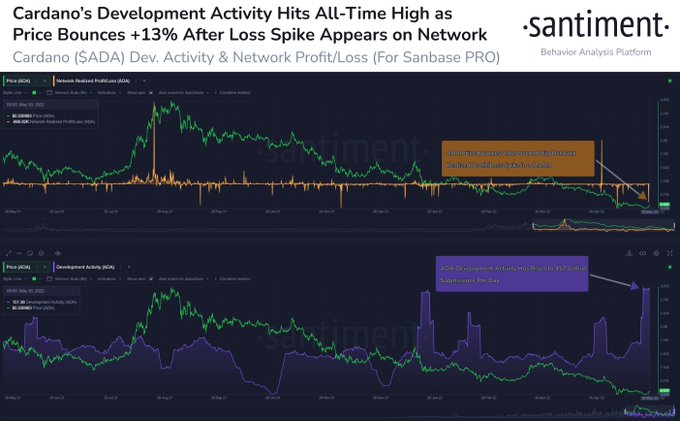 Source: Santiment
Cardano is a proof-of-stake (PoS) blockchain, which is designed to be a scalable, sustainable, and flexible network for running smart contracts needed when developing decentralized finance (DeFi) applications and new crypto tokens.
Therefore, Cardano is one of the sought-after networks in the development arena based on the latest trend of flipping Ripple's market capitalization of $20.14 billion.
Market analyst under the pseudonym Tajo Crypto pointed out:
"Cardano pumped more than 25%, so it flipped XRP to become the 6th largest crypto by market cap. Cardano is doing well with over 5 million assets minted from its network recently. Cardano is also getting ready for the Vasil upgrade in June. ADA is doing well."
ADA was up by 18.66% in the last seven days to hit $0.6124 during intraday trading, according to CoinMarketCap. 
Therefore, Cardano seems not to be relenting in its quest to flip other cryptocurrencies. For instance, it elbowed Polkadot (DOT) from the seventh position in January 2021. As a result, it became the biggest proof-of-stake network. 
Image source: Shutterstock

Credit: Source link