For the second consecutive week, digital asset investment products noted positive flows. When compared to the latter half of May, last week's numbers were much better. Per CoinShares' latest weekly report, the cumulative inflows for Bitcoin and altcoins like Ethereum, summed up to $100 million this time.
Bitcoin single-handedly managed to register inflows totaling $126 million last week, while other assets like Solana and XRP too registered positive numbers. Ethereum, on the other hand, was the odd one out, for it had registered outflows of $32 million. In fact, per CoinShares,
"Ethereum has endured 9 straight weeks of outflows implying enduring negative investor sentiment."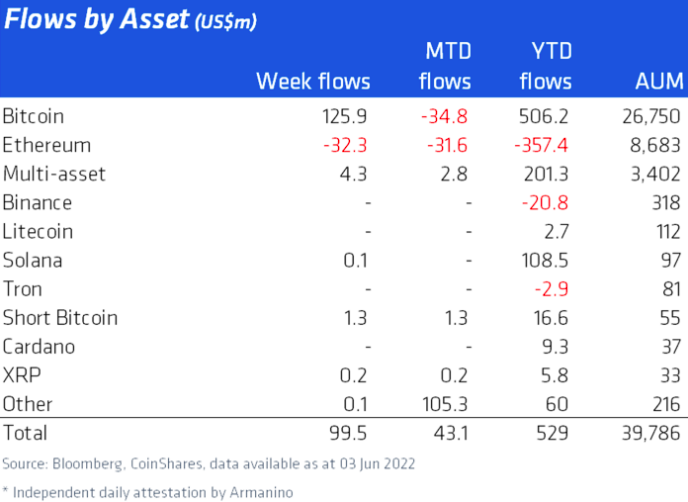 The rising volatility
There was one point in time when large institutions were hoarding Ethereum over other crypto assets. But now, looks like the rise in the volatility in its field is repelling away big players.
Now, as can be seen from the snapshot attached, the ETH-BTC realized volatility spread [right] has made a 180-degree flip from the negative to the positive territory over the past few weeks, indicating that the volatility in the Ethereum market is relatively more than that of Bitcoin's. This means, of late, the alt king's price swings have had more thrust when compared to the king coin.
Alongside, the implied volatility has also substantially risen in the same timeframe, implying that traders are currently expecting Ethereum's price actions to make more noise going forward too. Also, both the metrics have been hovering around their 3-month highs lately.


The Merge factor
Another important factor to be considered at this stage is Ethereum's upcoming Merge. The said event is expected to cause the volatility in the ETH market to rise.
As such, a notable testing milestone is set to take place tomorrow [8 June], with the Ropsten testnet Merge. On its part, Ropsten is one of the many testnets created by the Ethereum Foundation and is considered to be the best replication of the Mainnet.
So, the Ropsten testnet Merge will see the Proof of Work (PoW) network combine with a new proof-of-stake (PoS) consensus layer testnet, simulating what would happen during the actual Merge of the Beacon Chain and the mainnet.
If the Ropsten Merge ends up becoming successful, Ethereum's price can be expected to rise. On the other hand, if there are hiccups, then the native asset might shed value. Either way, the volatility in the environment is set to persist for a while.
Bottom line
Perhaps, only when things stabilize, volatility evaporates, and Ethereum's price establishes a clear trend, institutions would be triggered to re-enter the market. When that happens, the negative flows would eventually flip to positive.

Credit: Source link