The cryptocurrency market kickstarted Money on a high as Bitcoin's weekend recovery extended to another day of trade. As the markets altcoins continued to trade in the green, meme token BabyDoge's touched its highest level in 10 days, buoyed by news of new a listing.
BabyDoge listed on BitcoinLFG
Listings are an important fundamental aspect of any coin and the same potentially opens a project to new investors and a larger userbase. On that front, BabyDoge ticked a box after securing a listing on crypto data provider BitcoinLFG on 29 May. The platform allows users to track live crypto prices and gauge market volumes, similar to how CoinMarketCap operates.
The gain was visible on BabyDoge's daily chart, which recorded its largest green candle in 10 days. The price was inching closer to $0.00000000170 and a breakout would open the market for more gains. However, there were a few question markets concerning the alts' long-term growth.
For one, BabyDoge's On Balance Volume was yet to shake off an active downtrend (see chart above). The metric indicated that bears were still driving the price on a broader picture and bullish control was just limited to brief recovery rallies.
BabyDoge – questions on long-term growth


Generally speaking, a steady rise in social media mentions shows engagement among the community, which can lead to organic growth. Although BabyDoge's social activity rose on Monday, the metric was sufficiently lower compared to earlier months when the community was significantly more active on social media platforms – an unwanted sign for an extended rally.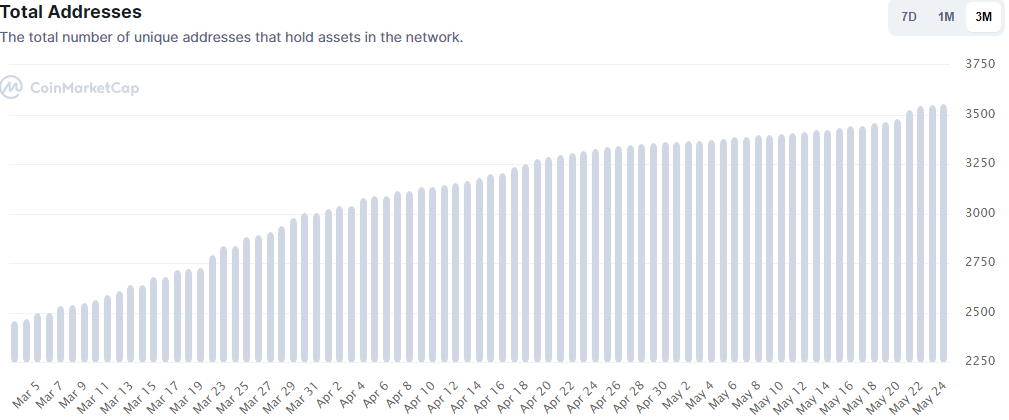 Another gauge of long-term growth is through analyzing whether the project was attracting new investors. On that front, there was little to be optimistic about. Since April, BabyDoge has managed to attract 500 new unique addresses, which was pale in comparison its to rivals. The likes of Dogelon Mars, Shiba Inu, and Floki Inu have attracted more new addresses since the same period, suggesting that new entrants have looked elsewhere for their meme-coin fill.
Conclusion
With Bitcoin amidst a bearish cycle, meme-related projects would likely face the music till the environment becomes better for investors. In some cases, strong fundamental development could alts away from Bitcoin's shadow but the same did not seem to be applicable for BabyDoge just yet.
Hence, the current price increase should not be mistaken for an extended rally. BabyDoge's gains could likely be limited to $0.00000000170 and investors their trade accordingly before the next round of corrections.
Credit: Source link