Monday instilled renewed recovery hopes among traders and investors from the crypto market. The same bullish momentum was carried forward on Tuesday as well. While top coins like Bitcoin and Ethereum inclined by 3%-4% each, the spotlight was grabbed by alts. Cardano and Axie Infinity, for instance, had appreciated by approximately 30% on the daily time frame. One of the heftiest surges was, nonetheless registered by Waves.
In just a matter of hours, the #60th ranked crypto managed to double in valuation. From trading around $5 during the latter half of Monday, the alt surpassed the $10 threshold during the initial hours of Tuesday. By press time, however, WAVES started retracing already and was trading at $8.67.
Side effects of Waves' surge
Leverage traders were the most affected by the altcoin's dramatic surge. While early spotters reaped lofty returns, others ended up losing massive amounts of their capital. In just the four-hour window, more than $4.2 million worth of WAVES was wiped out.


Both long and short traders were impacted by the fluctuations. As illustrated below, during the initial rally phase, short traders were mercilessly rekt, while during the retracement phase, bullish traders were victimized.
As far as the bifurcation is concerned, Coinglass' data brought to light that, in total, over the past 36 hours, $10.5 million shorts and $4 million longs were liquidated.


Despite traders losing money due to the unanticipated pump, the total value locked on the DeFi protocol noted a sharp increase over the past day. On 30 May, the worth of all assets on Waves was worth $890 million. However, by press time on Tuesday, the number had already surpassed the $1 billion thresholds.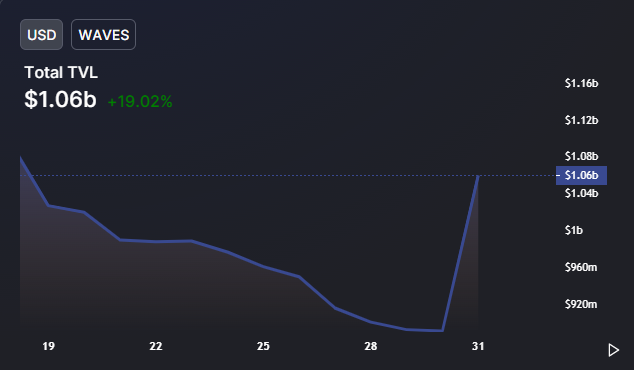 Well, Waves' TVL had been on a downtrend for a while, and the recent incline—to some extent—brings to light the restored faith of DeFi users towards this protocol. As far as altcoin's price is concerned, there is no surety of a continued pump because, on the daily frame, at least three resistance levels are extending from $12-$17 that might hinder WAVES' path going ahead.
Credit: Source link